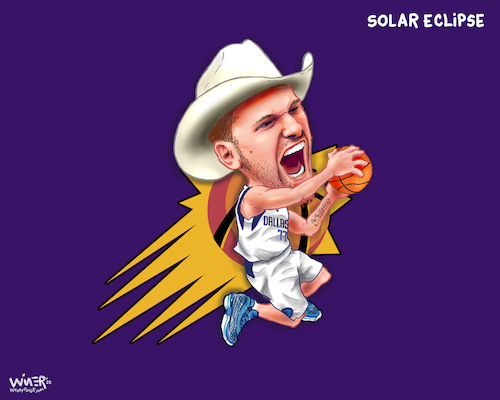 Phoenix Sun Doncic Eclipse
#406286 / aantal keren
Latest for WoodyPaige.com, a leading online platform for sports reporting in the United States and abroad.

Someone Just Blocked Out the Phoenix Suns

A Slovenian cowboy, Luka Doncic, and the Dallas Mavericks improbably sent home the best team in the NBA this past season in a total blow out, 123-90.

Doncic finished the regular season on fire, helping the Mavs secure the fourth seed, and playing at an MVP level. He continued through the playoffs, first routing the Jazz 4-2, then coming back to beat the Suns, 4-3.

In the final game of the Phoenix series, Doncic was unstoppable, putting up 35 points, 10 rebounds, four assists, and two steals in only three quarters. And he does it all with a smile.

The Suns, who had dominated the regular season and looked like the team to beat for the championship, now will face a much longer than expected off-season to think about what could have been. Chris Paul had been a reason for so much of their success, but at 37 it's hard to tell how much he can hold off Father Time's inevitability.

Meanwhile, it will be interesting to see how much the Mavericks will continue to shine as they face a dangerous but banged up and up-and-down Golden State Warriors team for the conference finals.
Sports » Ball Sports Championships
sportscartoonnbabasketballphoenixsunsdallasmaverickslukadoncicplayoffs