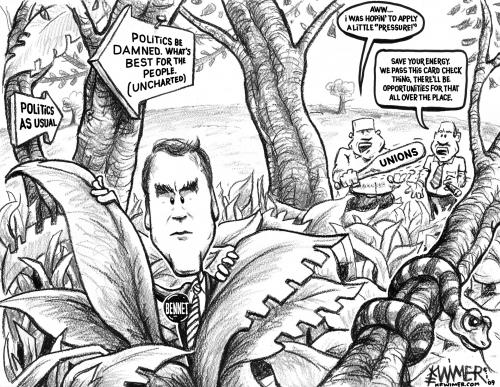 3431
Bennets Path Least Taken

1
Applause

van
karlwimer
op April 30, 2009
Michael Bennet, Colorado's junior senator, has always proven a smart, pragmatic decision-maker and a pro-business guy (he made millions working for Anschutz). But it's interesting times as Labor flexes its muscles and puts the heat on moderate Democrats like Bennet who's 2 years away from an election. So far he's avoided a big political stand, but he won't be able to hold out much longer with the card check bill decision just around the corner. Here's to continue making the best decisions, not the politically pressured ones...
bennetsenatesenatorusunionslaborbusinessefcacardcheckpoliticsjungle
Meer van deze kunstenaar karlwimer

No New Nothing

Christmas Tre...

Avalanche Sea...