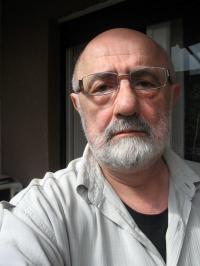 Zoran Spasojevic
Kragujevac, Serbia
Lid sinds September 29, 2008
www.zoran-spasojevic.blog...
2,069,612
views
507
opmerkingen
60
voorkeur
Professionele informatie
Naam
Zoran Spasojevic Paske
Geboortedatum
1949-01-22
Persoonlijke informatie
Zoran Spasojevic Paske was born on January 22, 1949 in Kragujevac, Serbia. He is the author of poetry books: "The Gift of Emptiness" (1986) and "Hunger" (1998), short stories "Farewell suit" (1997), "Short Stories without Any Trouble" (2003, 2006), drama trilogy "America has a hole" (2003), short drama book "Reservation Serbia" (2006), documentary comedy "Gavrilo's Principle" (2008), love comedy "Do you love me, Jakov" (2008) and lightweight comedy "My Man" (2010), satire book "Here the rabbit drinks water" (2008), as well as e-mail art book "A little night mail" (2009). He is the author of the CD-ROM (graphics, books and texts) "Circus" (2006). He is also the author of the TV drama "America has a hole 2" (1999), screen play for a TV comedy serial "Without a Title" (2000) and a radio drama "Short history of alternating standing and falling". He has been published in more than sixty anthologies and collections of poetry, short stories, short drama and satire. He is also involved in mail-art and computer graphics. His computer graphics have been published on postcards, in magazines and books, as well as in numerous Internet magazines. Zoran has published over a hundred mail art cards in several editions. His cards can be seen in private collections, libraries and museums of mail art. He has been awarded many times for his works. He is a member of the Association of drama writers of Serbia and the Association of Serbian writers.
Contact van Zoran Spasojevic
(159)