gadgets
Web gadget

Verplaats je favoriete selectie van b>toonpool.com cartoons nu met deze handige kleine gadget naar je website, myspace of blog. Wijzig de kleuren op de manier die je zelf wilt!


Creeër nu een Web gadget
iGoogle gadget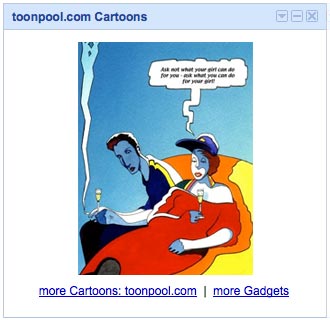 Plaats de b>toonpool.com-gadget op je persoonlijke iGoogle website voor je dagelijkse lachsalvo

Installeer de toonpool.com voor iGoogle
Windows Vista/Mac OS X-gadget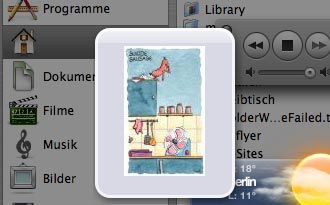 Kleine cartoons op je bureaublad met een link naar toonpool.com
Het maakt niet uit of je vriendjes bent van Steve Jobs of Bill Gates: download de fancy
toonpool.com
Gadget/Widget voor Windows Vista of Mac OS X 10.4.3+ en bekijk de laatste cartoons gemakkelijk zonder een browser op te starten.
Download de Windows Vista gadget
(~25KB)
Download de Mac OS X Dashboard widget
(~25KB)
Aanwijzing voor Mac-gebruikers: Mac OS X 10.4 Tiger is vereist. Als je Safari gebruikt, klik op de download link