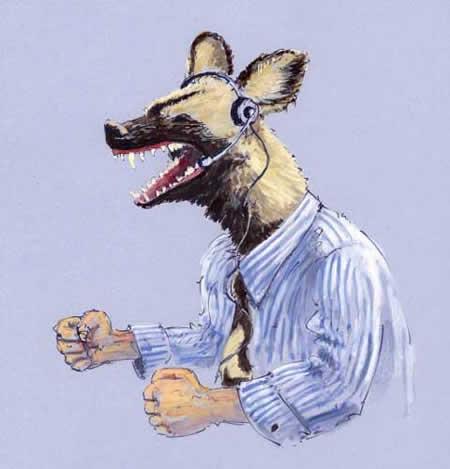 11208
wildhund

van
neophron
op January 24, 2008
Der freundliche Mitarbeiter von der hotline.
Geselecteerde cartoon
Life is a fable in times of financial crisis

Neophron's cartoon "Wildhund" is fierce and brutal, it's expressionistic and surreal and there is a connection to fables, as ekna states: this wild dog or dingo is about to win or to lose, no matter, he looks grimly and victorious at the same time; but he will learn from the result of his behavior. It's about fate, hope and the survival of the fittest.
It's not important whether he is a football commentator or a stock market crasher - he does whatever is good for him. Sometimes the wolf catches the hare, sometimes not. Anyway, I definitely recommend neophron's other surreal animal cartoons.

(toonpool.com 12/08)
Meer van deze kunstenaar neophron

uups

the old tree ...

stressige Wei...