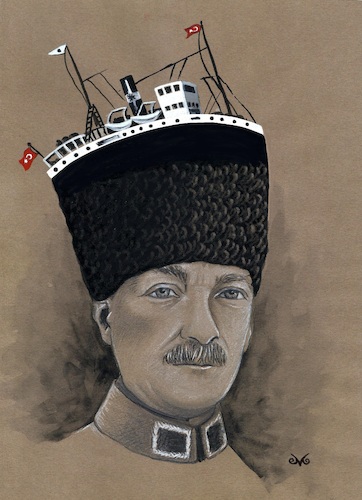 366
The symbol of resistance 19 May

van
menekse cam
op May 18, 2020
The symbol of the resistance.
Happy 19 May, Commemoration of Atatürk, Youth and Sports festival.
The Great Leader Mustafa Kemal Atatürk paved the way for independence...
Atatürk set out for Samsun with Bandırma Steamboat on this important day. The significance of May 19, 1919 lies in its being the first day of liberation of Anatolia from the occupation of imperialist states who sought to share it between themselves. In other words, May 19 is the day when the Turkish War of Independence started. With this day, a fully independent Turkish nation was saved from being kept captive. While the Turkish nation was looking for ways of liberation in challenging living conditions and an environment of depression, the Great Leader Mustafa Kemal Atatürk set foot on Samsun and paved the way for independence.
First steps towards the new life of Turkey...
During those dates, Samsun, which was strategically important for occupation forces and a safe gateway to the Central Anatolia, was under the reign of English troops. After Lieutenant Hamdi from the Turkish Machine Gun troops took the hills and the Turkish people took up arms, the need for a competent commander in the region was revealed. This situation created an unequalled opportunity for Mustafa Kemal who was worrying for his country and wishing to do something. Atatürk got aboard the steamer Bandırma from the Galata port with 18 people around him and the Captain Ismail Hakkı Durusu. He began his journey as a soldier but continued as civilian a few days after he set foot in Samsun. Because the scene in Samsun was not very bright and the English occupation forces were all around. Sleepless nights started and the first steps of liberation of the country were taken at Hıntıka Palace, which serves as a museum today. From that day on, future of the Turkish nation had brighter prospects headed towards a more contemporary and civilized life. The fact that Atatürk dedicated this important day to the youth was a powerful sign of the first steps toward the new life of Turkey.May 19, 1919, which is one of the turning points in the history of the Republic of Turkey, is also celebrated as "Youth and Sports Day". Atatürk had always foreseen that youthful ideas, instead of rusty and old ones, would take Turkey one step further. Celebration of this day as "Youth and Sports Day" started in 1935. It was first celebrated as "Atatürk Day" on May 24, 1935. Celebrated at the Fenerbahçe Stadium, "Atatürk Day" was organized by the initiatives of Beşiktaş Gymnastics Club. Hundreds of sports people from Fenerbahçe, Galatasaray and Beşiktaş clubs participated and thus, this significant day turned into a sports day. In the following years, Ahmet Fetgeri Aşeni, a founding member of Beşiktaş, took the floor at Sports Congress and recommended that this special day be celebrated as "May 19 Youth and Sports Day". May 19 became an official day of celebration with the approval of Atatürk. Becoming a law on June 20, 1938, "Youth and Sports Day" was renamed as "Commemoration of Atatürk, Youth and Sports Day" after the September 12, 1980 coup d'etat. This important day is celebrated with enthusiasm every year in the Turkish Republic of Northern Cyprus and Turkey.
Politics » National/Domestic Military & Security Family & Youth Other Conflicts & War Politicians Democracy
bandirmasteamboatsamsunnineteenmaygreatstepataturkindependenceoccupationsalvationbandirmasteamboatsamsunnineteenmaygreatstepataturkindependenceoccupationsalvation
Meer van deze kunstenaar menekse cam

Good to know ...

GERO

Special Prize...