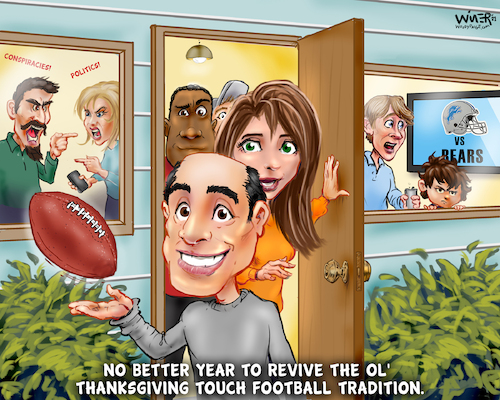 Thanksgiving Touch Football
#395552 / aantal keren
Latest cartoon for WoodyPaige.com, a leading platform for sports commentary in the US and abroad.

Giving Thanks for Thanksgiving Touch Football

Nothing kicks off the holiday season like Thanksgiving. The food, family time, football, and traditions passed down through the ages makes for a memorable Thursday that bleeds into the long weekend.

But sometimes friends and family time can get downright ugly, especially in today's hyper-charged environment. And football? Well, on Thanksgiving this year, we are again fortunate to take in the sadness that is the Detroit Lions (only one win in the past 12 years of Thanksgiving games) vs the nearly as inept Chicago Bears.

The food...well that is pretty much always awesome. But I don't recommend eating all day. I've tried, and regretted it.

So here's to pumping up the old pigskin, cuing up "Glory Days," and leading your crew outside to the nearest park for a game of touch football.
Sports » Soccer/Football Ball Sports Other Sports
sportscartoonamericanfootballtouchnfldetroitlionschiacagobearsthanksgivingargumentsholiday