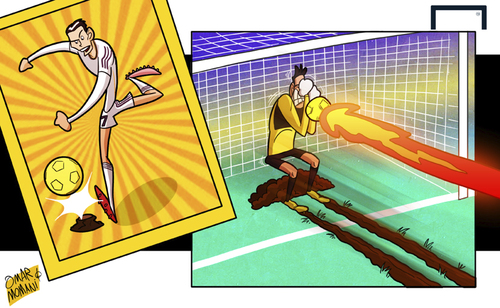 1455
Ronaldo fires

3
Applause

van
omomani
op January 16, 2014
Fresh from winning the Ballon d'Or, Cristiano Ronaldo was back in action as Real Madrid took on Osasuna in the Copa del Rey.

Carlo Ancelotti's men held a 2-0 lead from the first leg and quickly added to that tally with Ronaldo opening the scoring after just 20 minutes.

The Portuguese unleashed a free kick which flew straight at goalkeeper Andres Fernandez with the shot-stopper trying to punch the ball clear and succeeding only in forcing the ball onto the ground, between his legs and into the back of the net.
Sports » Soccer/Football Championships
andresfernandezcopadelreycristianoronaldofifaballondorosasunarealmadrid