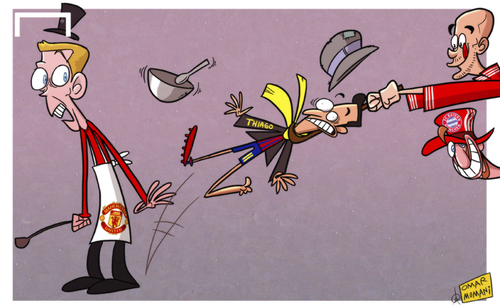 1894
Pep picks United pocket to steal

2
Applause

van
omomani
op July 13, 2013
Barcelona youngster Thiago is currently one of Europe's hottest properties with a number of top clubs seemingly intent on snapping up the Spaniard.

While Manchester United had looked favourites to capture his signature, the 22-year-old now looks destined for European champions Bayern Munich.

Pep Guardiola, who worked with the youngster at Camp Nou, seems determined to land his man telling a press conference: "Thiago is the only player I want, that's what I told them. It'll be him or no one".
barcelonabayernmunichguardiolamanchesterunitedmoyesriberythiagoalcantara
Meer van deze kunstenaar omomani

Mancini keeps...

Arsenal rock ...

SoldaDoh!