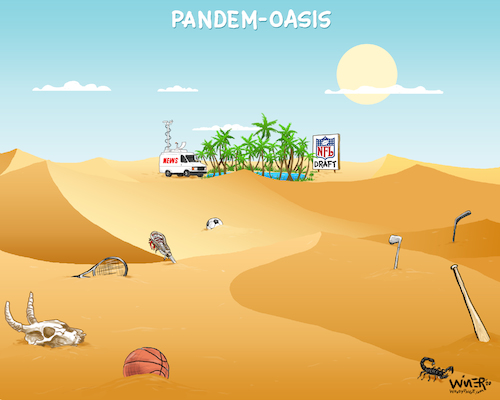 Pandem-Oasis
#357901 / aantal keren
Latest cartoon for WoodyPaige.com, a leading sports website for covering things in the United States and abroad.

Pandem-oasis in a sports desert

The sports scene has become a virtual desert. No competitions, no audiences, no soup for you.

ESPN plays reruns of old games that people may or may not care about. They drum up intriguing, yet only half-satisfying programs like "The Last Dance," chronicling Michael Jordan's final season with the Bulls.

I caught "The Tournament of the Americas" or something like that the other night. USA vs Canada in a dodgeball championship whose mediocre athletes were dead ringers for those in the movie of the same name. Entertaining for about a half hour.

But the NFL Draft is something a little different. Not sports per se, but a draw like nothing else in the past two months. It blew away previous drafts for television audiences, for the simple reason there is nothing else on. For a moment we could all immerse ourselves in something happening real time (as opposed to reruns) and connected to the sport and teams that so many of us love. There was plenty of drama and surprise and hand-wringing, but fundamentally it was a temporary lifeline, an oasis we could enjoy for a moment in the vast desert of silent sports.

Was it any better than previous years? Probably not. As Eddie Murphy once said, "if you're starving and someone throws you a cracker...you'd be like:'That's the best damn cracker I ever ate in my life!'"
Sports » Soccer/Football Ball Sports Winter Sports Fun Sports Other Sports