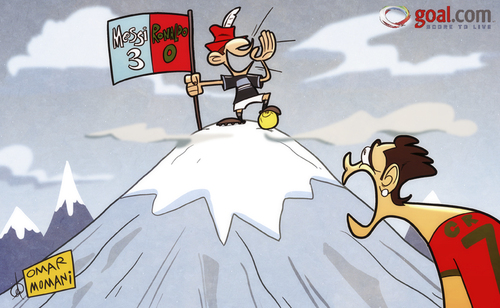 4018
Messi king of the hill

3
Applause

van
omomani
op March 02, 2012
Lionel Messi went some way to banishing his Argentina demons on Wednesday night after putting on a virtuoso display to inspire his country to a 3-1 victory against Switzerland in Bern. His well-taken hat-trick also took his international goal tally to 22, surpassing legendary striker Mario Kempes and capping off a memorable night for the 24-year-old.

The fleet-footed attacker has been continually criticised by many for failing to replicate his form with Barcelona on the international stage, but his latest performance should see Portuguese counterpart Cristiano Ronaldo look on in envy following the Seleccao's latest disappointing result - a 0-0 draw in Poland.
Sports » Soccer/Football Championships
alpsargentinabarcelonacristianoronaldolaligamessiportugalrealmadridspain
Meer van deze kunstenaar omomani

Sturridge and...

Di Matteos he...

Cry me a river!