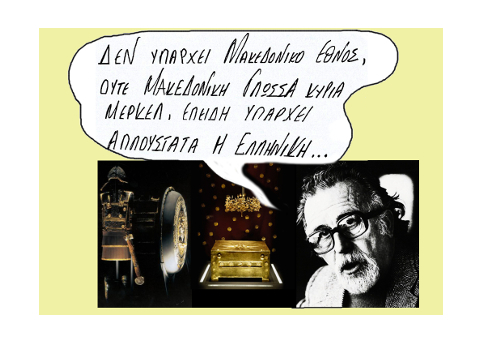 674
MAKEDONIA SKOPIA

1
Applause

van
vasilis dagres
op February 22, 2018
there is no Macedonian nation, no Macedonian language, Mrs Merkel.
Because there is language Greek.


Manolis Andronikos ; anthropologist , archeologi , art historian , university lecturers
Manolis Andronikos conducted archaeological research in Veroia, Naousa, Kilkis, Chalkidiki and Thessaloniki, but his main research was done in Vergina, where his teacher, professor K. Rhomaios had founded in 1937 the Aristotle University Excavation at Vergina. His greatest discovery occurred on November 8, 1977, when he found a tomb at Vergina which he identified as that of Philip II of Macedon. It was unplundered and contained many valuable items, such as a golden larnax.[1] The finds from this tomb were later included in the travelling exhibit "The Search for Alexander" displayed at four cities in the United States from 1980 to 1982.
Demonstrated the Greekity of Macedonia



Ο Μανόλης Ανδρόνικος πραγματοποίησε αρχαιολογικές έρευνες στη Βέροια, τη Νάουσα, το Κιλκίς, τη Χαλκιδική και τη Θεσσαλονίκη, αλλά η κύρια έρευνα έγινε στη Βεργίνα, όπου ο καθηγητής Κ. Ρομάιος ίδρυσε το 1937 την Ανασκαφή του Αριστοτέλειου Πανεπιστημίου στη Βεργίνα. Η μεγαλύτερη του ανακάλυψη έγινε στις 8 Νοεμβρίου 1977, όταν βρήκε έναν τάφο στη Βεργίνα, τον οποίο αναγνώρισε ως τον τάφο του Φιλίππου Β της Μακεδονίας. Ήταν αχρησιμοποίητο και περιείχε πολλά πολύτιμα αντικείμενα, όπως μια χρυσή λάρνακα. [1] Τα ευρήματα από αυτόν τον τάφο συμπεριλήφθηκαν αργότερα στο ταξιδιωτικό εκθετήριο "The Search for Alexander" που προβλήθηκε σε τέσσερις πόλεις στις Ηνωμένες Πολιτείες από το 1980 έως το 1982.
Politics » National/Domestic International Other Politicians Democracy

attack in Syria

major General...

NATO