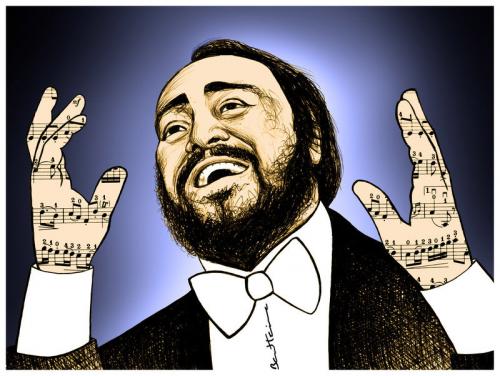 Luciano Pavarotti
#5273 / aantal keren
WHEN PAVAROTTI DIED

By Gary Corseri (*)

When Pavarotti died
No Statesman made a statement.
(They were embarrassed by their voices.)
No Officer of Meddling meddled
In another man's affairs.

The skylarks fell from their windows.
(They had been admiring
Their own reflections.
Now they cried in unison, "He's gone.";)

Rudolfo wept; Bellini beat his temples.
There was no war anywhere worth celebrating—
No victories, no monuments
Remotely compensating
The people for their loss.

"O mio babbino caro,"
Sang a hundred forlorn women.

Somewhere in a forest
A leaf fell from a redwood,
Undulating downward
Until it folded itself in humus.

Fox eyes narrowed and glowed in moonlight.
Every feral creature bowed.

----------------------

(*) Gary Corseri's work has appeared at CounterPunch, DissidentVoice, The New York Times, Village Voice, PBS-Atlanta, and elsewhere. His books include Manifestations and Holy Grail, Holy Grail. He can be contacted at: [email protected]. Read other articles by Gary.
lucianopavarottiworldofoperaconcertcookitaliahappinesstalentlabohemevoicemodenamusicnotesoperaorchestraricharddyerroyaloperahousesingersolosongtenortranscendvocalcordbenheine