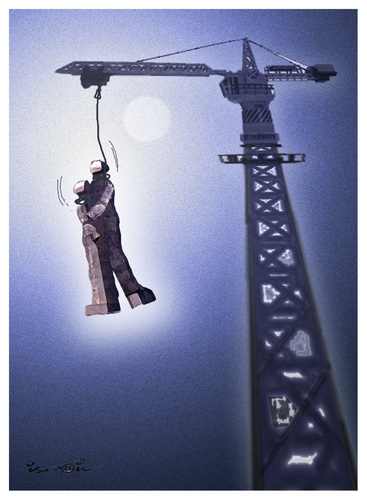 3649
LAST TANGO !..

van
ismail dogan
op April 26, 2011
Turkey today began dismantling an imposing monument celebrating friendship with Armenia near the border between the two countries after Prime Minister had derided the statue and requested its removal.

The company commissioned by the city of Kars (northeast) to dismantle the "Monument of Humanity"- a concrete statue of 30 feet high representing a man cut in two with two opposing sides - disassembled One of the two heads of the statue, said a witness at the scene.

The block, weighing 19 tons, was cut and deposited on the ground by a crane, the source said, interviewed by telephone.

Prime Minister Recep Tayyip Erdogan had triggered a torrent of criticism during a visit to Kars in January during which he criticized the statue as "a monstrosity ... a funny thing erected" near the grave of an Islamic scholar
Meer van deze kunstenaar ismail dogan

THE PITTSBU...

BURKA !..
THE BOSPHORUS...