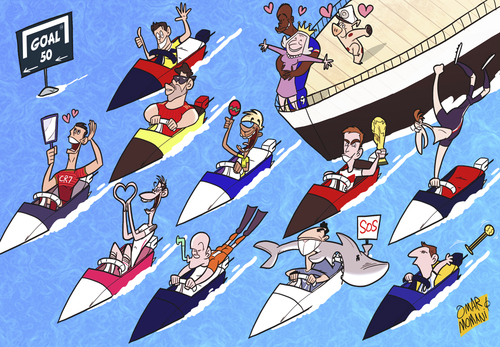 2672
Goal 50

2
Applause

van
omomani
op July 17, 2014
Jul 16, 2014 08:30:00
The countdown to the 2014 Goal 50 has begun and the debate is raging over which star performers from the season should be included in this year's list of football's most talented

Many of the world's greatest footballers are off enjoying their summer holidays, but the star performers of 2013-14 will still have more than one eye on the annual prize-giving ceremony that is the Goal 50.

Our brilliant artist Omar Momani has drawn up his vision of the high achievers in contention for the list - which will be announced on July 28.

Cristiano Ronaldo and reigning champion Lionel Messi have shared five of the six editions of the award, and both take their place on the first row of this year's starting grid. The Argentine will surely be more interested in winning the Goal 50 than he was in collecting the World Cup Golden Ball.

Gareth Bale joins the Clasico duo on the front row and will be feeling a lot of love after a superb first season at Real Madrid. In the middle are Arjen Robben, whose Goal 50 odds have plummeted after a wonderful World Cup, and Luis Suarez - who will be equally hungry to claim the prize.

Also challenging are the acrobatic Zlatan Ibrahimovic, the stylish Neymar, the no-nonsense Diego Costa, Colombian revelation James Rodriguez and a very proud Germany World Cup-winning captain Philipp Lahm.

But who is that at the back of the pack? Only Mario Balotelli and the Queen.

Indeed, some would say that the Italian's chances of winning the Goal 50 are about as good as the Titanic staying afloat after hitting the iceberg!

HAVE YOUR SAY

Do these players deserve to make the Goal 50? If not, who else should be on the list? If so, who should join them and in what order should they be ranked?

Get involved via our Goal 50 section this month and give us all your views on the debate by commenting below and by getting in touch on Facebook or Twitter using the hashtag #Goal50.
arjenrobbenbalotellicristianoronaldodiegocostagarethbalegoalgoal50ibrahimovicjamesrodriguezmessineymarphilipplahmqueenelizabethsuarez
Meer van deze kunstenaar omomani

A helping hand

Varane

It must be lo...