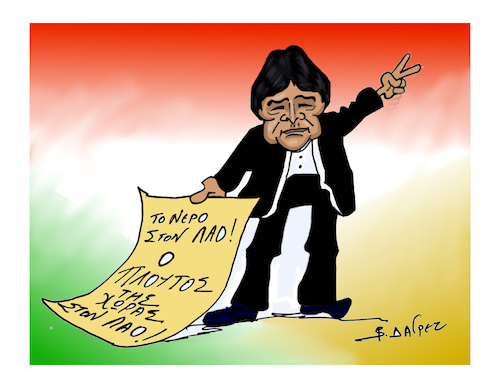 306
Evo Morales

2
Applause

van
vasilis dagres
op November 15, 2019
COUP IN BOLIVIA

One of his first moves was to nationalize the country's natural resources, which once exploited, unaffordable for the State, foreign private companies.
In the past in Bolivia foreign companies and still controlled drinking water and citizens were forbidden to gather even rainwater!
In early 2000 the tariffs of water in Cochabamba city had risen sharply as a result a large part of the population does not have access to drinking water.
Large protests followed, who stayed in history as the "water war" was one of the causes that led to Evo Morales in power ....
Politics » International Elections Military & Security Third World Terrorism Pension Economy & Money Immigration Historical Other Politicians Parties Democracy

ERNTOGAN san...

Emmanuel Macr...

the chicken