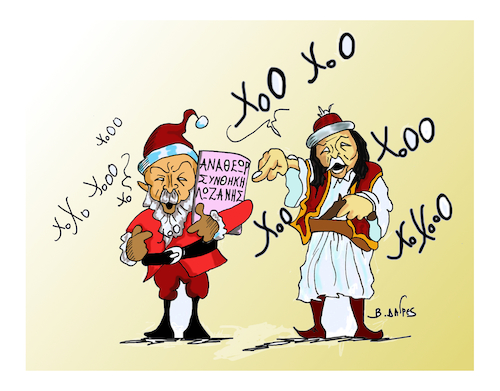 678
ERNTOGAN santa claus

van
vasilis dagres
op December 19, 2019
TREATY OF LOZANIS 1923
ERNTOGAN wants to abolish the Treaty of Lausanne made in 1923.
He wants to reclaim Greek territory.
With the Turkish aviation he constantly creates problems in the Aegean Sea.
The Greece not claiming foreign lands though many of them had developed the Greek culture, such as Asia Minor, but is not going to cede even one Greek land measure also which country in the world would want that.
Ο ERNTOGAN θέλει να καταργήσει την συνθήκη της Λοζάνης που έγινε το 1923.
Θέλει να διεκδικήσει ελληνικό έδαφος.
Δημιουργεί με την τουρκική αεροπορία συνεχώς προβλήματα στο Αιγαίο πέλαγος.
Η Ελλάδα δεν διεκδικεί ξένα εδάφη αν και σε πολλά από αυτά είχε αναπτυχθεί ο ελληνικός πολιτισμός , όπως είναι η Μικρά Ασία , αλλά και δεν πρόκειται να παραχωρήσει ούτε ένα μέτρο ελληνικής γης , άλλωστε ποια χώρα στον κόσμο θα το ήθελε αυτό.
Politics » National/Domestic International Military & Security Terrorism Economy & Money Immigration Historical Other Conflicts & War Politicians Parties Democracy

EYROZONE

Helping us

election