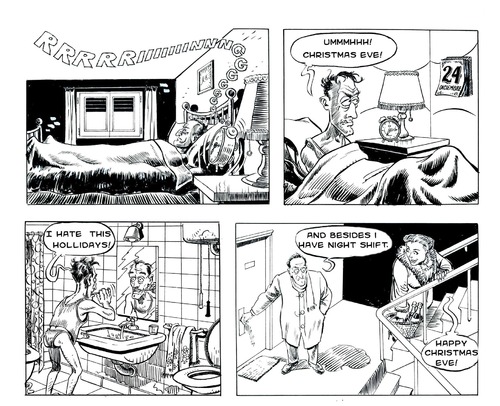 7381
Christmas Eve

van
llumetis
op December 16, 2010
Another amazing association with the great humorist Llobet!!!
Vertalingen
(1)
toevoegen
other van llumetis
'Pag.1

1/2> Hmmm! Nit bona!

1/3> Odio aquestes festes!

1/4> I a sobre tinc el torn de nit!

> Feliç nit bona!

Pag.2

2/1> La gent amb aquest estúpid somriure a la cara...

2/2> Santa Claus grassos per tot arreu!

2/3> Tothom engolint com porcs i jo, amb la diabetis no puc ni provar els torrons ...

2/4> Nit de pau ... Nit d'amor ...

> Fora! Deixeu-me en pau!

Pag.3

3/1> No podia faltar la neu!

3/2> Aquest pany está vell,l'he de canviar


3/4> Encara sort que només és un cop l'any!'
Meer van deze kunstenaar llumetis

callmly

Carnaval in t...

my village