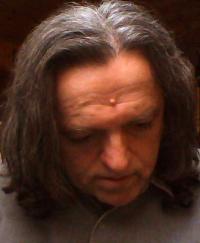 srba
"Nihil Omnia Est"
Novi Sad, Serbia
Lid sinds May 05, 2010
www.srba.rs
1,096,028
views
1,119
opmerkingen
81
voorkeur
Professionele informatie
Naam
Predrag Srbljanin
Geboortedatum
1954-03-06
Opleiding
Self educated
Techniek
Ink, watercolor markers, Photoshop
Tools
Rapidographs, watercolor markers
Invloeden
Miroslav Bartak ( Czech R. ) , Jugoslav Vlahović ( Serbia )
Persoonlijke informatie
Born 1954. Self educated freelance cartoonist and illustrator. Drawing cartoons from 1978 and has published in Yugoslav papers and magazines. Designed rock record covers and wrote lyrics for rock songs. In 1993 published "Cook Book for Kids" ( lyrics and illustrations ). In 1996 and 1997 participated at the Celebrate Exhibitions "The 80 Years of the Canard Enchaine ( Paris )", as a unique cartoonist from former Yugoslavia. Passed the MENSA test (IQ = 152 ).