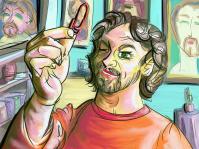 royblumenthal
"I live my art in prosperity and abundance."
Johannesburg, South Africa
Lid sinds May 03, 2008
snipurl.com/visualfacilit...
81,353
views
35
opmerkingen
1
voorkeur
Professionele informatie
Naam
Roy Blumenthal
Geboortedatum
1968-02-17
Opleiding
Currently in the process of doing a Masters in Digital Arts at Wits University
Techniek
Painterly, with Matisse-like linework, on a tablet pc running ArtRage.
Tools
Pen on paper. Ruling pen on paper. Tablet PC running ArtRage.
Invloeden
Matisse, Picasso, and Toulousse-Lautrec are heroes of mine. For their art, not their lifestyles.
Favoriete toon
George W Bush. He IS a cartoon character, right?
Persoonlijke informatie


I make my living as a visual facilitator. This means that I translate ideas in conferences and other meetings into pictures. I do this live, in realtime, painting on my tablet pc, using ArtRage painting software. My work is projected on the venue wall for everyone to see as I create it.