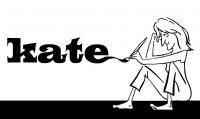 pinkhalf
"Don't be boring, will you?"
London, United Kingdom
Lid sinds July 04, 2009
www.katemanson.co.uk
616,107
views
81
opmerkingen
27
voorkeur
Professionele informatie
Naam
Kate Manson
Techniek
Pen and ink
Tools
Pen and ink
Invloeden
Ronald Searle, David Low, Chuck Jones
Persoonlijke informatie


I'm an overeducated, relentlessly cynical, persistently lazy individual. My redeeming features are that I make a good companion either at dinner or on the dancefloor, I'm easy on the eye and have my own transport.