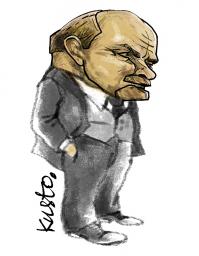 kusto
"Nulla dies sine linea"
Vyshneve, Ukraine
Lid sinds April 06, 2022
facebook.com/oleksy.kusto...
82,336
views
92
opmerkingen
1
voorkeur
Professionele informatie
Naam
Oleksiy Kustovsky
Geboortedatum
1971-11-03
Persoonlijke informatie
Self-taught artist. Agronomist by education. His first cartoon was published in 1998. Laureate and prize-winner of international cartoon competitions. Personal exhibition: Pisek (2010, Czech Republic), Presov (2016, Slovakia), Poltava (2017, Ukraine), Adana (2017, Turkey), The European Festival of Humour and Satire Kremnica Gag 2018 - Kremnica (2018, Slovakia). The member of the National Union of Journalists of Ukraine. The artist of the parliamentary newspaper "Holos Ukrainy".