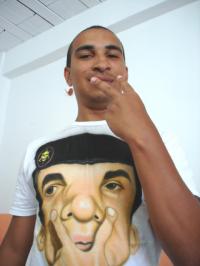 guima
RIO DE JANEIRO, Brazil
Lid sinds January 14, 2008
www.guimacartunista.blogs...
124,707
views
42
opmerkingen
17
voorkeur
Professionele informatie
Naam
JULIO PEREIRA GUIMAR
Geboortedatum
1980-03-16
Techniek
acrylic paint
Persoonlijke informatie


Júlio Pereira Guimarães Jr. - Born in Rio de Janeiro, on March 16th, 1980. Has a degree in Fine Arts (Universidade Federal do Rio de Janeiro) and participates of humor exhibitions in Brazila and abroad since 2005. He has been awarded in national exhibitions and has been selected in some international exhibitions. Nowadays, he is an art teacher in Rio de Janeiro and is the coordinator of the project "Sorrialengo", which enables new cartoonists and develops social and educational projects. Although he is able to develop work with any technique (mud, wastes, coffee, etc) Guima is known for his develoment technique elaborated with great details of graphite inserting into the caricature, the language of graffiti.