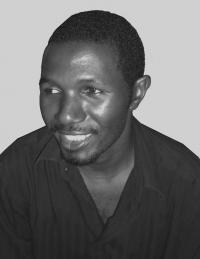 fredhalla
"I believe I can"
Dar es Salaam, Tanzania
Lid sinds February 07, 2008
www.vmcaa.nl/bongotoons
64,839
views
19
opmerkingen
4
voorkeur
fredhalla's gallery
(11)


Professionele informatie
Naam
Fred Halla
Geboortedatum
1975-05-22
Opleiding
BA in Fine Arts Univ. of Dar es Salaam,2005
Techniek
Drawing,Painting and Comp. Graphics
Tools
Pen, Brush, Ink and watercolurs
Invloeden
Ali Masoud "Kipanya"
Favoriete toon
Kipanya
Persoonlijke informatie


I am a person who believe in collective efforts, but with painters, illustrators its rarely applicable. I'm charming, and posses sense of humour, you can realise if you often meet and converse. I like to see and meet creative minded people.