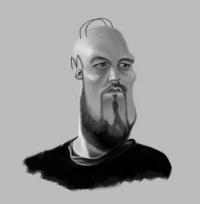 PlainYogurt
"There is no magic."
Kapiti Coast, New Zealand
Lid sinds May 25, 2009
jamie-linfoot.blogspot.co...
106,018
views
43
opmerkingen
8
voorkeur
Professionele informatie
Naam
Jamie Linfoot
Geboortedatum
1977-08-19
Opleiding
None
Techniek
Digital paint over ballpoint sketch.
Tools
Pencil, photoshop, sketchbook, zbrush
Invloeden
Everyone
Favoriete toon
Invader Zim
Persoonlijke informatie


I will do a digital caricature of anyone for 50 Euro. Black and white, head and shoulders. More than that is extra. Contact me for details.