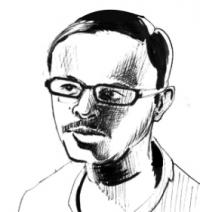 Nasif Ahmed
"Do Cartoon"
Dhaka,
Lid sinds October 19, 2018
be.net/nasifahmed
113,407
views
11
opmerkingen
0
voorkeur
Professionele informatie
Naam
Nasif Ahmed
Opleiding
Passed BFA & MFA from Faculty of Fine Arts,University of Dhaka.
Techniek
Hand drawing
Tools
Paper,Pencil,Marker, Digital tablet , water colore
Invloeden
Cartoonist Ahsan Habib ,Cartoonist Miel .
Favoriete toon
The Grim Adventure of Billy and Mandy
Persoonlijke informatie
Doing Cartoons, comics and illustrations. Staff Artist of "The Daily Janakantha" . Completed BFA &MFA Faculty of Fine Arts, University of Dhaka.