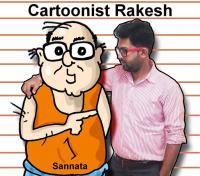 Cartoonist Rakesh Ranjan
"Cartoonist"
Indore, India
Lid sinds June 24, 2018
https://www.facebook.com/...
125,050
views
2
opmerkingen
2
voorkeur
Professionele informatie
Naam
Rakesh Ranjan (CRR)
Geboortedatum
1991-06-07
Opleiding
Master In Journalsim And Mass Communication
Techniek
Cartoonist
Persoonlijke informatie
The Indian Political Cartoonist Rakesh Ranjan was born on 7 june 1991 in Motihari, Bihar. He is from a middle class family and completed his primary education from bihar and studied Bachelor of Journalism & Mass Communication from IIMT Institute of Meerut in 2011 and Master of journalism & Mass communication from Rajshthan university in 2015 and has affinity for drawing since school times. He is a good player of badminton and played several tournaments for his school and college, he also played at State level in 2006 and at National level in 2008. In 2013 he started his career as freelance Political cartoonist and his favourite topic for cartoon was Against Caste Resevation and his numerous cartoons were published on india's Number One Portal The Laughing colors,Dainik Bhaskar Newspaper,The Explore Political Funda portal, The New Age English Paper,Navyug Newspaper, Jaipur Magazine,New IspatNewspaper etc. In 2016 his most controversial cartoon on JNU's Kanhaiya Kumar issue published in Newyork based "The Telegraph" in eight columns with caption "Brave humour in Troubled times". In 2017 he joined "talented India" newsportal as a senior cartoonist and he is also the creator of the characters Tale and Ted of the portal. In 2107 he got the prize at National level organised by Cartoon Watch for his cartoon on Nature and also awarded as Excellent Media Entertainment of 2017 by Talented India. #I_tell_my_little_story_that_today_I_am_a_cartoonist. Old thing is that the memory has become a bit blurred yet still I am sharing it with all because this story holds great importance in my life. I believe it's matter of time,now comes to the point this is the case when i was in the class 4 or 5 .The daily newspaper did not come to my house but when Dadaji came from the village or the papa was on leave for jobs then the newspaper came home only because the story was of the newspaper and cartoon, every Saturday there was a column on the city page. In which the children's cartoons were published with their name, address and class. Seeing the curiosity of sending cartoons inside me, and asking for money from the mother for the chocolate, arranged the envelopes and postage stamp and sent it to the address printed in the newspaper. (By the way, even today nobody in the home has heard of this incident. It was also a reason that if the name is printed in the newspaper then suddenly I will tell in the house and all will be very happy) Now I was waiting for Saturday and Rs 1.50 for the paper. Then Saturday came and money was arranged, and cartoons were printed, but my cartoon was not printed, i was disappointed but there was another hope that maybe the next Saturday will my turn. Next Saturday also came, arranged money and cartoons were printed in the newspaper as usual, but my cartoon was not printed and then again i disappointed.Now I am an editorial cartoonist today, the reason to share this incident with you is not at all that I have done a lot of work, I am a young cartoonist who works daily for my stomach. The only reason of telling this story was just that Time is the most powerful and Nobody moves ahead of time, no matter how strong it is. Thank you Your cartoonist Rakesh Ranjan.