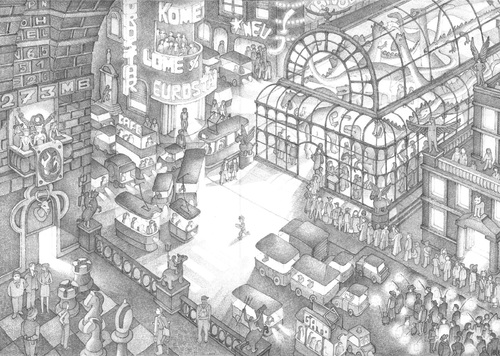 1522
Lantern parade...

2
Applause

van
erikberndt
op October 29, 2015
...at the exhibition hall.
with manga folks at left, a slightly overweight and short-legged Ikarus at right and the three apocalyptic horsemen in the foreground....ready to clean out this Babylonian metropolis with their pitchforks. Other scholars however see the forks as tridents pointing towards the aquatic nature of the apocalypse.

Also two interpretations are possible for the guy on the zebra crossing:
a) the flash of genius, bringing fresh inspirations to the chess players whose game obviously has got stuck.
b) the element of contradiction, bringing traffic and parade to a halt and going out when everybody wants to go in.

Pencil, 30x40cm
Education & Tech » Traffic & Space Flight Architecture
Meer van deze kunstenaar erikberndt
The pilgrim

Saturn

Concert at th...